Spa professionals
know where we stand.
Behind them.
Build your brand on a
solid foundation.
The International SPA Association Foundation is the 501(c)3 foundation of the International SPA Association and was created in 1999 to serve the educational and research needs of the spa industry.
The ISPA Foundation's mission is to improve and enhance the value of the spa experience; its vision is to advance spa culture to sustain health and well-being.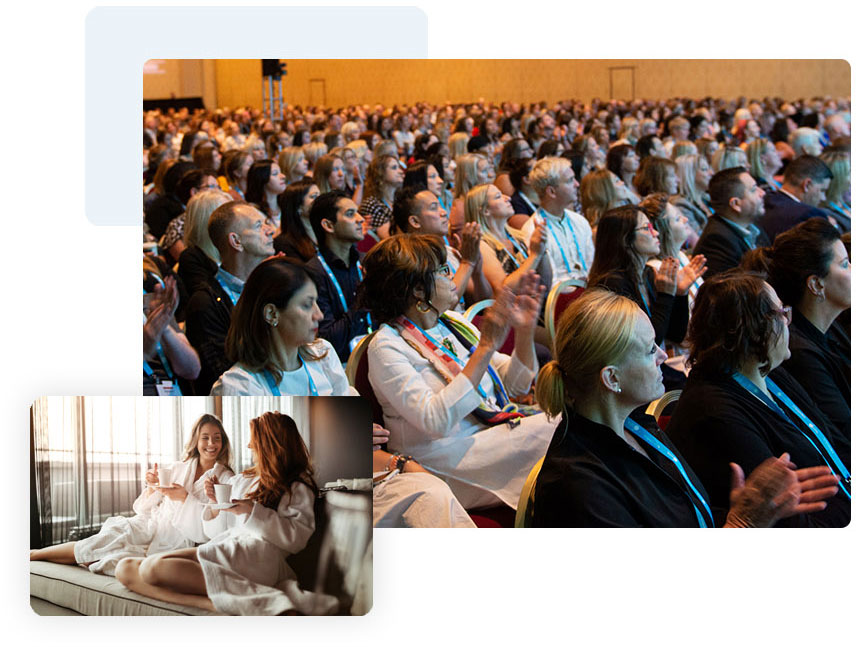 Mission
Improve and enhance the value of the spa experience.
Vision
Advance spa culture to sustain health and well-being.
Purpose
The purpose of the ISPA Foundation is:
To promote the public welfare through the advancement of physical fitness, medical and wellness care, and professional spa services;
To encourage, provide for, and engage in professional study and research related to lifestyle and health enhancement from physical fitness, dietary practices, spa services, and educational programs and scholarship programs;
To improve the quality and increase the availability of professional spa services, medical and wellness care, conventional and complementary therapies and treatments, and related educational programs.
Core Values
Visionary leadership that is always open to new ideas
Integrity evidenced by ethical, honest and credible behavior
Nurturing the wellness of society and the environment
Commitment to spa management as a profession
Objectives
Establish the Foundation as the educational source for the spa industry.
Establish definitive research validating spa industry-related topics.
Create an endowment that sustains the Foundation in perpetuity.
ISPA Foundation Board
Todd Shaw – ISPA Foundation Chair

Ella Kent – ISPA Foundation Vice Chair

Patrick Huey – ISPA Chair

Kelleye Martin – ISPA Vice Chair
Lynne McNees – ISPA President
Brent Bauer, MD – Medical Advisor
Deborah Szekely – Honorary Board Member
The ISPA Foundation works to extend and promote a healing touch to communities around the world using new and innovative methods. By supporting and funding forward-thinking individuals and organizations, the foundation establishes new initiatives that will enhance health and wellness.
Foundation Initiatives
Research & Curriculum
The annual ISPA U.S. Spa Industry Study and Consumer Research initiatives are made possible by the generous supporters of the ISPA Foundation. Additionally, the ISPA Foundation has begun the process of instituting a full-fledged spa management curriculum for institutions of higher learning, several of which have already adopted the introductory text for use in a comprehensive spa management course.
ISPA Foundation Mary Tabacchi Scholarship
Central to our investment in the future is the ISPA Foundation Mary Tabacchi Scholarship. With the help of the ISPA Foundation, through a wealth of donations, students interested in pursuing a career in spa management will be able to achieve their dreams and impact the future of the spa industry. It is the ISPA Foundation's hope that students touched by these scholarships will not only provide comfort and care to people who need it but serve as inspirations to others to join the spa profession. The scholarship was created in 2006 and named in honor of Mary Tabacchi PhD, RD, Professor, Services Marketing and Operations Management at the Cornell School of Hotel Administration.
Timeline details for future scholarship applications will be coming soon.
Mary Tabacchi Scholarship Recipients:
2019 – Quincy Reynolds
2018 – Christine Mbaye Muchemu
2017 – LaTesha Council
2016 – Margot Mangiarotti & Kelsey Brink
2015 – Anne-Liise Verpson & Taylor Toreno
2014 – Nicole Meneveau & Josee-Ann Cloutier
2013 – Kendra Kobler
2012 – Carmen Satchell-Nash
2011 – Jessica Barnett (Kildahl)
2010 – Kate Sornson McIver
2009 – Alison Harrigan
2008 – Michelle Bashore
WAYS OF GIVING
Donations are tax deductible to the extent allowable by law and may be designated to one of the following areas of giving:
Education & Outreach Fund
ISPA Foundation Mary Tabacchi Scholarship Fund
There are a variety of ways to financially contribute to the ISPA Foundation that provide benefits both to you and the Foundation. Giving opportunities may also be customized to meet your interests. The ISPA Foundation would be pleased to work with you and your personal advisors to find the method that fits your needs and wishes, as well as ensure any technical requirements are met.
There are additional ways you can contribute and support the Foundation, such as checking the box when you renew your annual ISPA membership to donate $25 to the ISPA Foundation, participating in ISPA Foundation events, volunteering your time and knowledge and purchasing ISPA Foundation materials. Through the generous contributions and support of ISPA Foundation donors, the Foundation has the power to move, grow and endure with lasting impact.