Spa professionals
know where we stand.
Behind them.
With the right inspiration,
anything is possible.
Creative spirit and innovative minds should never go unnoticed. In fact, because we value imagination, enterprise and excellence so highly at ISPA, we believe they should be rewarded. Let's join together to celebrate ISPA's exceptional award recipients and their accomplishments.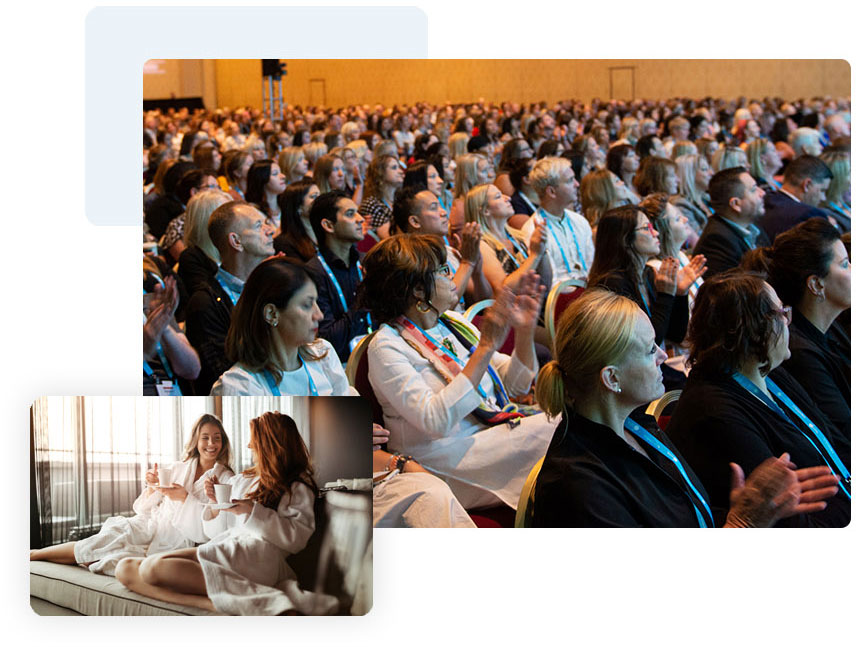 ISPA Innovate Awards
Established to highlight the remarkable amount of creativity and adaptability displayed by ISPA member organizations, the ISPA Innovate Award categories focus on Business Practices, ISPA Member Partnerships, Technology and Philanthropy. Click here to view ISPA Innovate Award recipients throughout the years.
ISPA Conference Awards
Each year, there are three awards given to individuals at the ISPA Conference Power Sessions. These awards include: ISPA Alex Szekely Humanitarian Award, ISPA Dedicated Contributor Award and the ISPA Visionary Award.
ISPA Alex Szekely Humanitarian Award
The ISPA Alex Szekely Humanitarian Award is named in honor of the late spa pioneer, Alex Szekely. It is designed to recognize an individual who acts as a respected contributor to overall well-being, encouraging the renewal of mind, body and spirit – all of which are characteristics embodied by ISPA members worldwide.
ISPA Dedicated Contributor Award
The ISPA Dedicated Contributor Award is given to an active ISPA member who has contributed significantly to the growth of the association. The recipient will have demonstrated leadership and commitment to ISPA and has extensively assisted in the promotion of the association, as well as its mission and vision.
ISPA Visionary Award
The ISPA Visionary Award is presented each year to someone in the spa industry who has made significant contributions to both the definition and positive movement of health and wellness over the lifetime of their career, a true spa industry visionary.
---
From time to time, a special award is presented to individuals who have made exceptional contributions to the association and spa industry as a whole. This award, known as the ISPA Distinguished Service Award has been awarded several times:
2022 – Colin McIlheney
This award was given in recognition of many years of dedicated service to ISPA through the partnership with PricewaterhouseCoopers (PwC).
1998 – Mel and Enid Zuckerman
This award was given in recognition of Canyon Ranch's innovative approach to wellness and its influence on the "wellness movement" in the United States.
1994 – Bernie Burt
This award was given in recognition of Bernie Burt's long-time service to ISPA and the spa industry.